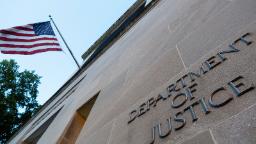 CNN
—

A former graduate student in Chicago was sentenced to eight years in prison Wednesday for spying for the Chinese government by gathering information on engineers and scientists in the United States.
Ji Chaoqun, a Chinese national who came to the US in 2013 to study electrical engineering at the Illinois Institute of Technology and later enlisted in the US Army Reserves, was arrested in 2018.
The 31-year-old was convicted last September of acting illegally as an agent of China's Ministry of State Security (MSS) and of making materially false statement to the US military.
According to the Justice Department, Ji was tasked with providing an intelligence officer with biographical information on individuals for possible recruitment as Chinese spies. The individuals included Chinese nationals who worked as engineers and scientists in the US, some of whom worked for US defense contractors.
Ji's espionage was part of an effort by Chinese intelligence to gain access to advanced space and satellite technologies being developed by US companies, the Justice Department said in a statement.
In 2016, a year after graduating from college, Ji enlisted in the U.S. Army Reserves under a program that allows foreigners to be recruited if their skills are deemed "vital to the national interest."
In his application to participate in the program, Ji falsely stated that he had not had any contact with a foreign government in the past seven years. According to the Justice Department, he also did not disclose his relationship and contacts with Chinese intelligence officers in a subsequent interview with a US military officer.
In 2018, Ji had several encounters with an undercover US law enforcement agent posing as a representative of the Chinese MSS. During these meetings, Ji said that with his military identification, he could visit "Roosevelt-class" aircraft carriers and take pictures of them. Ji also explained that once he obtained his US citizenship and security clearance through the Army Reserves program, he would seek employment with the CIA, FBI or NASA, the Justice Department said, citing evidence at trial.
Ji planned to perform cybersecurity work at one of those agencies so that he would have access to databases, including those containing scientific research, the Justice Department said in the statement.
Ji worked on behalf of Xu Yanjun, a deputy division director at the Jiangsu provincial branch of the MMS, the statement said.
Xu, a career intelligence officer, was convicted last year to 20 years in prison for conspiring to steal trade secrets from several U.S. aerospace companies. Xu was also the first Chinese spy to be extradited to the US for trial, having been detained in Belgium in 2018 following an FBI investigation.