Wade's crucial 21-ball 45*, Green's all-round showhand India four-wicket defeat in T20I
MOHALI: What criticism? In Monday's pre-match presser, KL Rahul had downplayed questions about his tempered approach and strike rate in T20 cricket, saying: "It's something I'm working on."
On Tuesday, the righthander made a breezy 35-ball 55, mixing aggression with caution in fielding the early dismissals of Rohit Sharma (11) and Virat Kohli (2). Towards the end, however, it was all-rounder Hardik Pandya (71 off 30 balls), who breathed fire with a hat-trick of six in the final to propel India to an impressive 208/6.
SCORE CARD
|
AS IT HAPPENED
But three dropped catches and poor death bowling meant the hosts ended up on the losing side as Australia reached the formidable goal with four balls and four wickets left. Complacency against an Australian outfit can be costly. Cameron Green, who was only playing his second T20I, proved that by giving the platform a chase with a flamboyant 30-ball 61, with eight hits on the fence and four over.
Promoted to open the innings, the all-rounder started with four straight boundaries at Umesh Yadav and played his first T20I in three years. He raced to half a century before Axar Patel (3/17) and Umesh (2/27) pulled India back into the game with three wickets in 14 balls.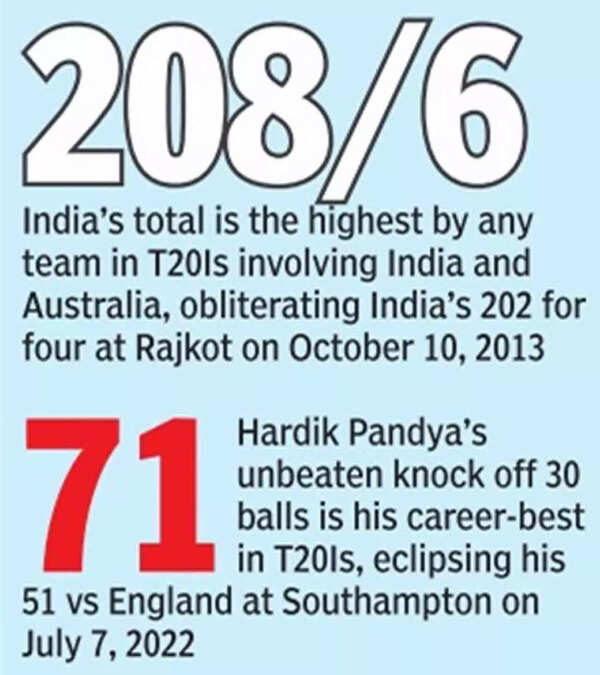 Green and Smith launch a massive counter-attack to bring the tourists to 109 for one to the 10th left. Two dropped catches made matters worse for the Indians. However, Axar quickly sprang into action by removing Green.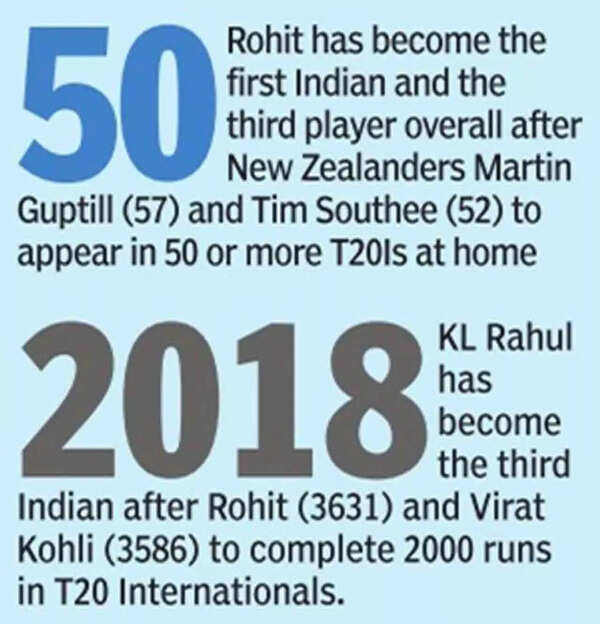 Umesh, who was called up as a last-minute replacement for Mohammed Shamigot over the nightmarish start and responded to the faith shown by Rohit by taking back the dangerous Steve Smith (35) and Glenn Maxwell (1) in a span of four balls. It was left to Matthew Wade (45 not out on 21) to put the finishing touches on the chase. He did it with the greatest of ease as Australia took a 1-0 lead in the three-game rubber.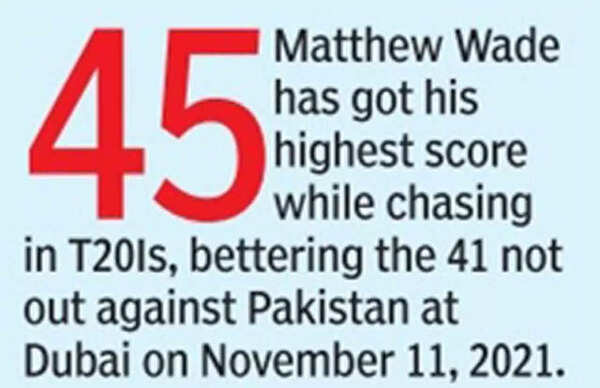 Previously, Rahul found the perfect companion in Suryakumar Yadav (46 out of 25 balls), who lit up the PCA stadium with fireworks and brought life back to the packed crowd that came to a halt as Kohli took the long walk back after being caught midwicket after a rough start.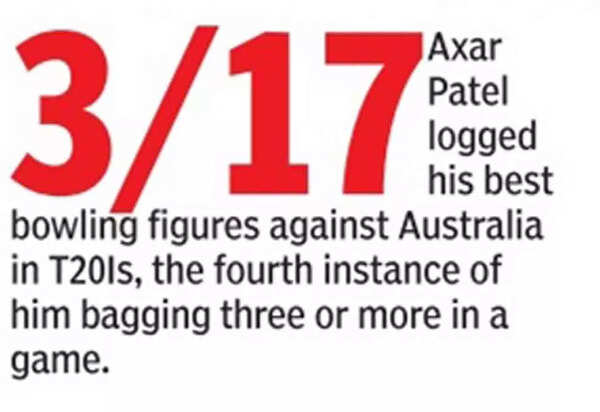 Asked to bat first, Rohit and Rahul started well, racking up 25 runs in quick time, before the skipper wasted another start and was undone by his habit of trying almost every delivery from the air. Rohit's attempt to clear the deep square leg boundary from a full supply of Josh Hazlewood came to nothing when a running Nathan Ellis clung to a low catch.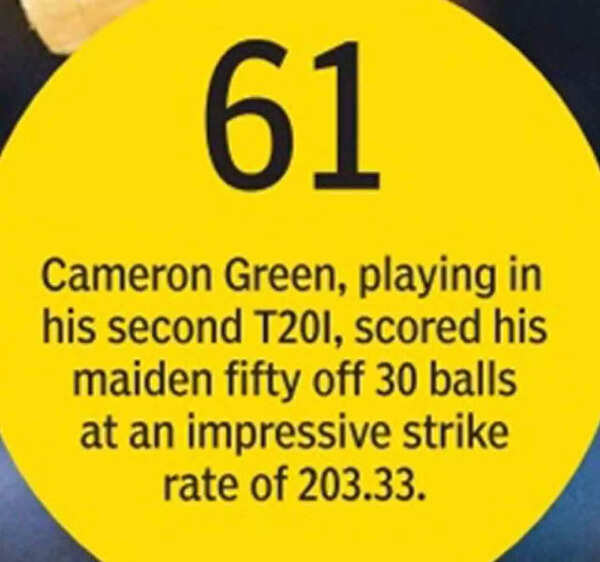 Kohli, who came in to a roaring roar from the crowd, didn't get going, especially against leg spinner Adam Zampa, and left after a 7-ball stay.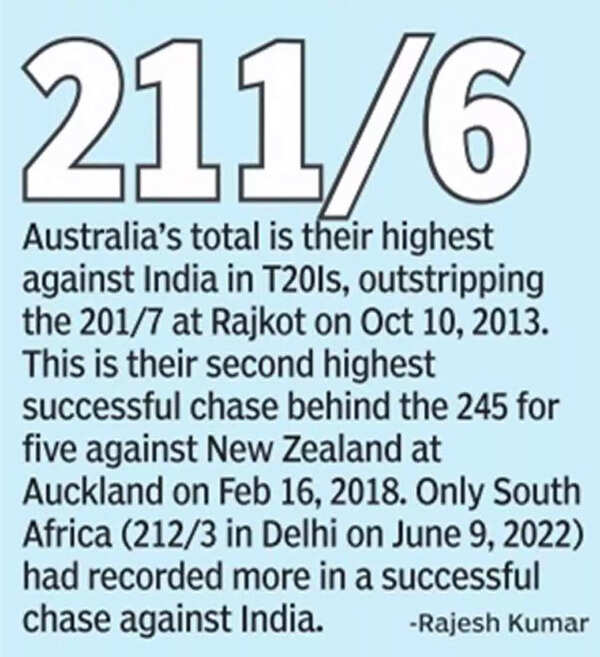 Unperturbed by the predicament, Yadav was in no mood to let the Aussies dominate and began to get through the attack. Pat Cummins for a six and a four, even as Rahul went ballistic against the likes of Cameron Green and Glenn Maxwell only to move over to 86 for 2 at the end of the 10th.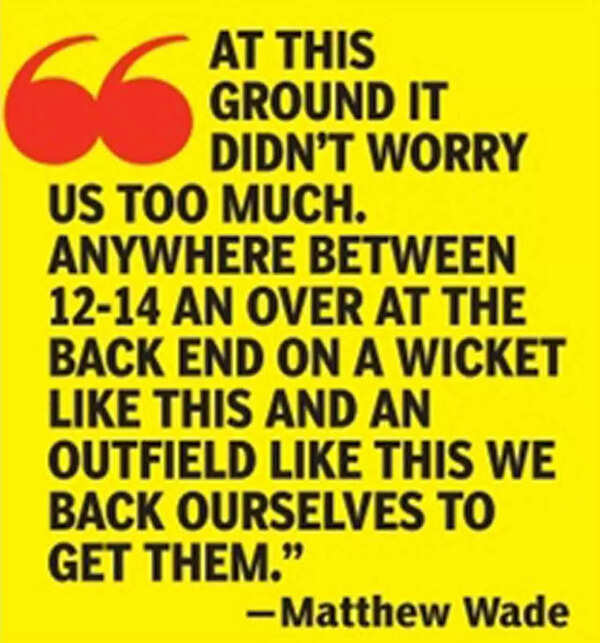 However, Rahul left immediately after reaching fifty with a single off Zampa. Back for a second spell, Hazlewood broke the 68-run third-wicket stand with a scalp from Rahul, who was caught by Ellis at a deep square-leg.
However, Yadav was unstoppable, who launched Zam-pa for consecutive sixes before Hardik Pandya announced his arrival with a huge six on Green. While the Indian duo looked destructive, Green managed to pull Australia back with the dangerous Yadav's wicket.