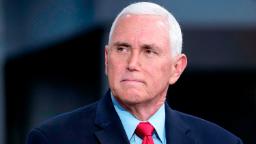 Washington
CNN
—

The 12 or so classified documents found in former Vice President Mike Pence's Indiana home include materials described as background briefing memos prepared for Pence's overseas travels, multiple sources told CNN.
A source said some of those classified documents were likely used to prepare Pence for foreign meetings while he was vice president and may have been overlooked during packing because they were in old travel folders.
According to another source, the secret briefing materials would not have been visible unless the packers had gone through the folders page by page.
It's not uncommon for presidents and vice presidents to receive travel briefings containing background memos about people they meet abroad. The sources who spoke to CNN said they sometimes contain basic biographical information about foreign leaders, but sometimes also more sensitive information.
The FBI is working with US intelligence agencies to review the documents, a process that determines how recent the information is, its classification level and the potential risks of having classified material stored in an unauthorized location, a US official said. .
A source aware of some of the classified documents told CNN that, based on what they were told, there was nothing out of the ordinary in the papers, describing the classification markings as being on the "lower level." There was no mention of documents with SCI or SAP markings, two designations of the most sensitive classified material, the source said.
Top secret, the highest level of classification, may include a subset of documents known as SCI, or sensitive compartmentalized information, reserved for certain information derived from intelligence sources. Access to an SCI document can be further restricted to a smaller group of people with specific security clearances.
Another category of sensitive information within the Top Secret or Secret classification is known as an SAP or Special Access Program, which requires additional safeguards. Not everyone with a Top Secret security clearance may be able to access information in an SAP.
CNN reported earlier this month that classified materials discovered in President Joe Biden's former office in Washington included U.S. intelligence memos and briefing materials from Biden's time as vice president on Ukraine, Iran and the United Kingdom.
The materials found in Biden's former office included some documents marked top secret with an SCI designation, CNN previously reported.
More than 300 classified documents have been discovered at Trump's Mar-a-Lago resort, both in boxes that Trump's aides turned over to the National Archives and in material later found by the FBI. The FBI's August search included 18 documents marked top secret, 54 documents marked secret and 31 documents marked confidential, according to court documents.
A series of classified documents retrieved by the FBI in August contained SCI markings, according to the deed of ownership released in court documents.