KOLKATA: Igor Stimac is all set to launch Sunil Chhetri and Co. in next year's Asian Cup. The All India Football Federation (AIFFA new tech committee on Sunday recommended that the former Croatian World Cup buyer's tenure as head coach of the senior national team be extended to the continental flagship next year.
In another important step, the IM Vijayan-led committee also proposed to stop Indian Arrows from participating in the I-League due to the difficulty of meeting the AFC licensing criteria.
The AIFF executive committee, meeting here Monday, is expected to formally endorse these recommendations. This will be Stimac's third contract extension since he took charge of the national team in May 2019. The coach is currently in town guiding the squad as they prepare for India's upcoming friendlies against Vietnam and Singapore.
The move to keep him at the head of the team came right on the heels of his meeting with AIFF president Kalyan Chaubey. Shortly after Stimac led India to the Asian Cup main round here in June, he set conditions for him to continue as a coach, emphasized the need for national team players to spend more time together and called for changes in domestic football.
It now appears that the new AIFF dispensation is in favor of an overhaul of the domestic structure. As part of this exercise, the federation has decided to withdraw Indian Arrows from the I-League.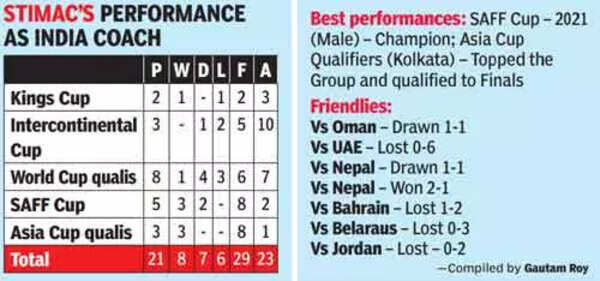 Money, used to nurture and promote what is known as the development side of the AIFF, will now be invested in creating a new Elite Youth League in the country.
Although Stimac remains head coach, Indian football will become 'desi' under Chaubey's presidency.
It has been decided that domestic coaches will now be deployed in every age group so that they can play an "essential role" in advancing Indian football.
"The new regime of the AIFF is in favor of bringing more Indians into the domestic pyramid of the game. There are a number of certified coaches in India and they will be employed," said a source.
It has also been learned that more female coaches will be involved in the new government's drive to develop women's football. However, following the recent exit of the Indian women's team from the SAFF Championship after losing to Nepal in the semi-finals, the coaching management team may be under review.
"We had a very fruitful meeting," Vijayan said later. Former India defender and captain Manoranjan Bhattacharya, who was initially reluctant to join the technical committee, has been appointed deputy chairman.
Former players Climax Lawrence, Harjinder Singh, Arun Malhotra and Eugeneson Lyngdoh attended the meeting at a city hotel on Sunday.