Michael Carrick took his first win as Middlesbrough manager with a 3-1 win over Hull, who are reportedly close to recruiting Liam Rosenior as the new head coach.
The highly regarded Rosenior, an East Yorkshire favorite during his playing days, watched from the stands as the Tigers slide to another home defeat.
Chuba Akpom's header in the 30th minute put Boro in control before Cyrus Christie equalized for the hosts on the hour.
Just when it looked like Hull was looking to build momentum, Tobias Figueiredo scored a soft own goal three minutes later.
An away win was then confirmed as Ryan Giles defeated Nathan Baxter on his near post using an 80th minute deflection from Christie, who also scored an own goal.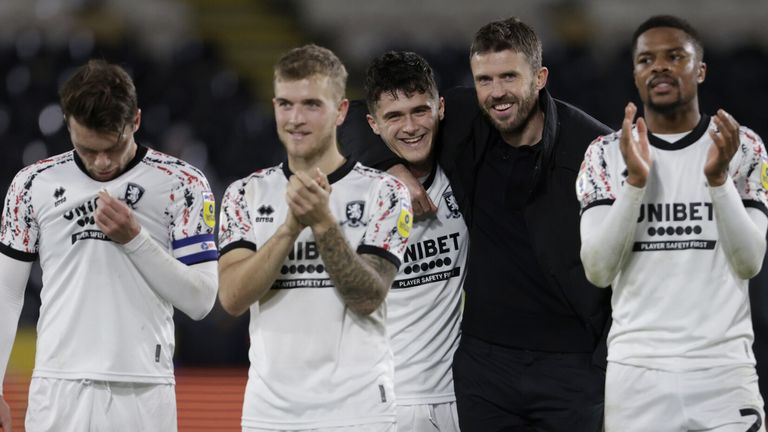 Rosenior no doubt left MKM Stadium with plenty to think about as Hull is just a point above the Sky Bet Championship relegation zone.
However, it was an important win for Carrick as Boro moved up to 18th place.
Middlesbrough had a good value for three points and had their first big chance of the game after 12 minutes when Isaiah Jones signed Akpom on the edge of the penalty area. Akpom had time and space but went wide.
Carrick had discovered a weakness to Hull's left and urged his players to exploit that perceived fallibility.
It worked, too, as Boro scored in an almost identical position to which Jones had previously been seen with good results.
Tommy Smith's savage deep cross may have tested the resilience of weaker attackers, but Akpom headed home boldly.
Akpom, who was loaned to Arsenal's Hull in 2015-16, declined to celebrate.
Hull's plight could have deteriorated eight minutes later when Giles sent one flying from the left.
Baxter spilled a routine save, but at least he had the means to get the ball to safety with his right leg.
Carrick would have been happy at halftime, but much less impressed by the casual way Hull was allowed to create their first meaningful chance shortly after the restart.
Christie got an easy cross from the right, with top scorer Oscar Estupinan managing to volley towards goal. Zack Steffen reacted smartly by tipping over the bar.
An even weaker defense then led to Christies equalizing as he waltzed into the penalty area unmarked. The fullback's shot was scraped, but it took a massive deflection over Steffen's head.
Carrick would have been furious at such a cheap concession, but it was nothing compared to how Hull interim head coach Andy Dawson must have felt minutes later.
The Tigers dealt weakly with a cross from Jones towards the back post, from which Darragh Lenihan headed over the goal. Figueiredo lacked the spatial awareness to prevent the ball from bouncing through his legs into the back of the net.
Hull at least tried to get back into the game, but there was no turning back when Christie was judged to have scored another own goal.
What the managers said…
Interim Hull head coach Andy Dawson: "I'm really disappointed with the performance. The first half I thought they were better than us. I don't think they caused us much trouble, but they were more aggressive than us. That was the message at half time – believe in yourself and try. Be brave.
"I thought we were excellent for the first 15-20 minutes in the second half. All the momentum was with us, but football has a terrible way of punching you in the nose. You have to keep believing in it and stick to the process .I thought their heads
probably went down a bit when that second goal fell. We have to do better. All we can do is improve."
Middlesbrough's Michael Carrick: "It's a good moment for me, but it's not about me. The boys won in front of the fans and they can go home satisfied. I thought we played very good football and we had to intervene every now and then. I've been really happy all week They put in their effort and their attitude was perfect I'm really proud of the boys and I'm so happy for them.
"If things are going against you and you're not on top form, it's not easy. I understand. I've been there, but you have to find that bit of something and there's nothing like a little success in all walks of life. seeing them bounce back (from Hull's equaliser) and dealing with that setback I'm happy for them as it's nice to take off a little bit I think we deserved that bit of success.
"The boys have adapted very well. There were so many elements that we can be happy with the performance and we have stayed together as a team. We want to look like a team to represent what the club is and what the fans stand for You can never deliver the perfect performance, but we're getting better."